Sideshow Collectibles
Deluxe R2-D2
(Exclusive)

A long time ago
when Sideshow first got the 1/6 Star Wars license there was much rejoicing… but then the dark times came and it seemed we might never see a single droid or non-human. In the meantime Medicom released not one, but two versions of R2 and C-3PO. Sadly the Medicom sets were expensive, out of scale with other 1/6 figures and most painfully out of scale with one another. Tamashii has also released an excellent C-3PO, but with a $400 price tag and plans for R2 on hold he didn't exactly set sales records.
Then a couple years ago everything changed, Sideshow broke out of just using standard body figures and we've seen a proliferation of great figures like Hammerhead, Gammorean Guards and droids like IG-88; but still no robot Odd Couple. That has finally changed and today I have a Sideshow R2-D2 in my hand. Now the big question is... was he worth the wait?
*All scores are out of a possible five stars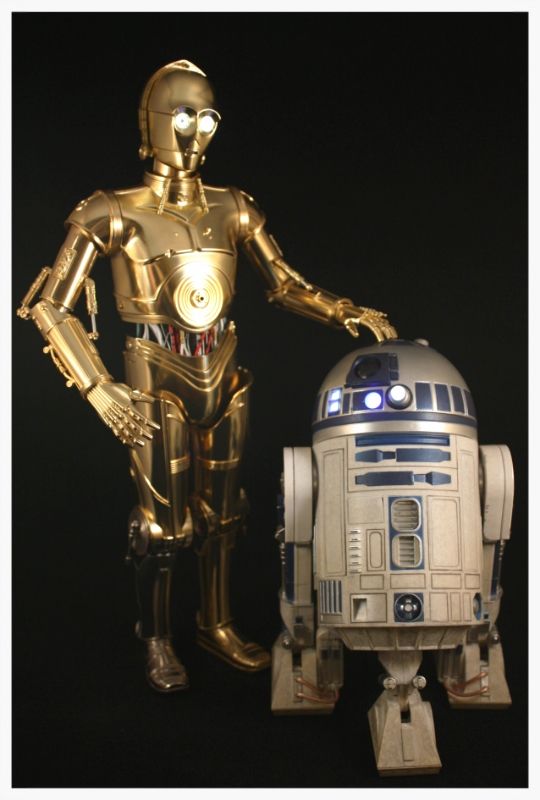 Packaging: ☆☆☆☆
Sideshow has used the same style of packaging throughout the Star Wars series; the box for R2 is shorter than most, but a bit wider to accommodate all of the accessories. Everything has a place and seems well protected for transport. The box has an opening flap with magnetic closures making it easy to view the figure and accessories.
The only negatives are the lack of information about the character (usually found on the inside of the flap) and it's just not as nice looking as the work Sideshow did with Vader or Grievous.

Sculpting: ☆☆☆☆1/2
It's clearly R2-D2 and he seems just about spot-on in terms of scale and proportions. I am not an expert on all things R2, but nothing seems out of place, oddly done or wrong on him. I think he's a smidge too small… maybe a ¼" or so, but easily the best looking 1/6 R2 we've seen to date. I believe the Taito R2s are probably the best in terms of scale, but the sculpting and details are not as crisp.
There has been a lot of concern raised about the seam on the dome… and while it's there and in photos catches the light, I can say it is a non-issue in hand. Not to mention, I noticed the same seam on both the Hasbro and Taito version; I'm guessing that's just how 1/6 domes are made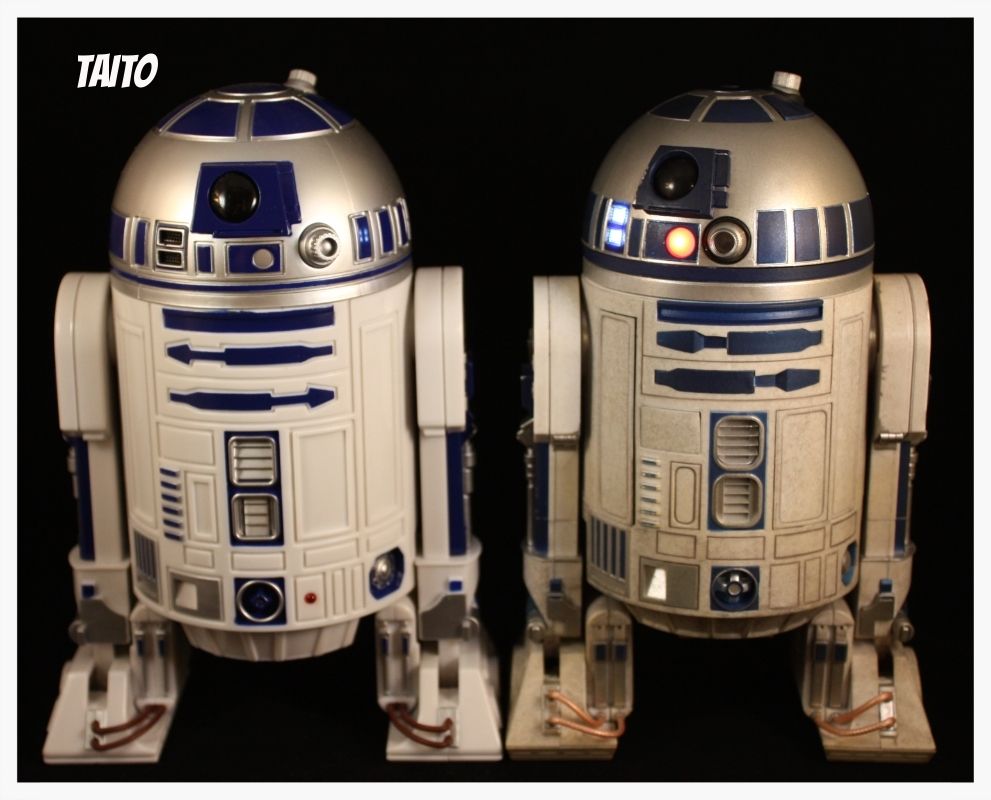 Paint: ☆☆☆☆☆
Sideshow has generally done solid on their droids and R2 seems to be the nicest one yet. In pictures I thought the weathering looked too uniform, but in hand it looks much better and is honestly about as good as one can expect for a factory made figure. All of the painted sections have good cut lines and he gives you the impression of a well-used, carbon-scored droid.
The accessories are likewise well painted and when applicable have cleanly applied decals.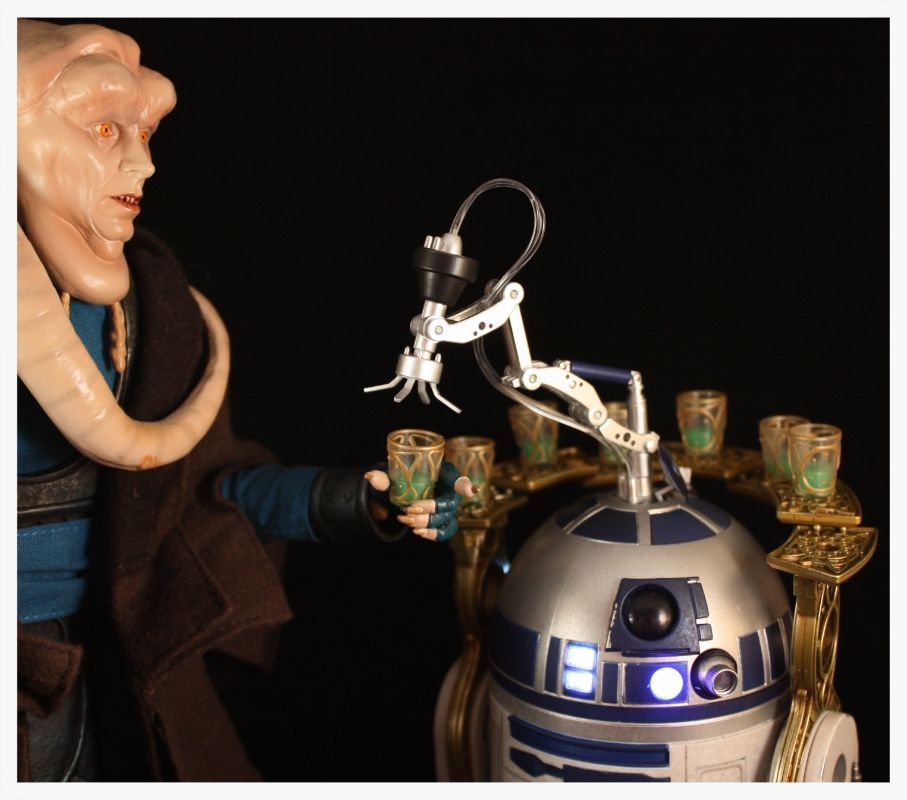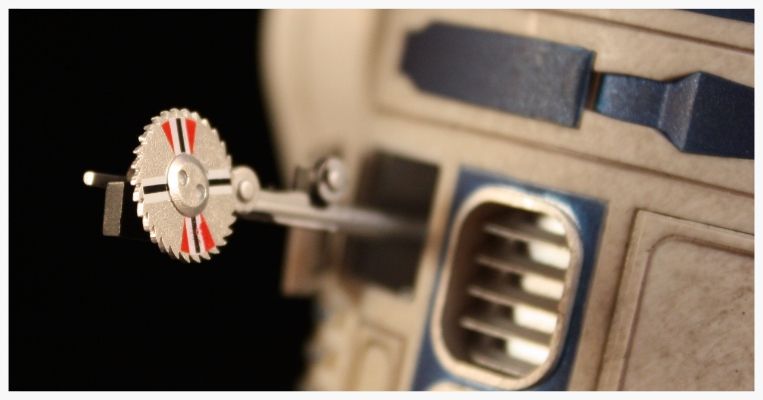 Articulation: ☆☆☆☆
R2 does all the things you'd expect him to. The head turns, the legs move back and forth, the feet pivot and he features the retractable 3rd leg. Everything worked smoothly on mine and he was able to remain in any of the poses I chose for him. The feet did feel a bit loose, but again, once in a pose he stayed put.
The hatches and compartments also opened easily, but possibly a bit too easily as some would open on their own if he was tipped forward. This isn't a major issue as they will stay closed on display, but can be a bit annoying and leads him to feel a bit fragile. Once the compartments are open you can install the tools. All of the tools are single piece items, but they can rotate when installed and the arms in the two side compartments move up and down and can tilt. And finally the sensorscope and life sign scanner can both spin once extended out of the dome; I have a few issues with how well these work, but that will be discussed in the features section.
All 3 projectors on his dome rotate and one final bit of articulation is the serving arm… it swivels when in place and has multiple points of articulation to get just the right pose for serving Jabba's cronies a drink.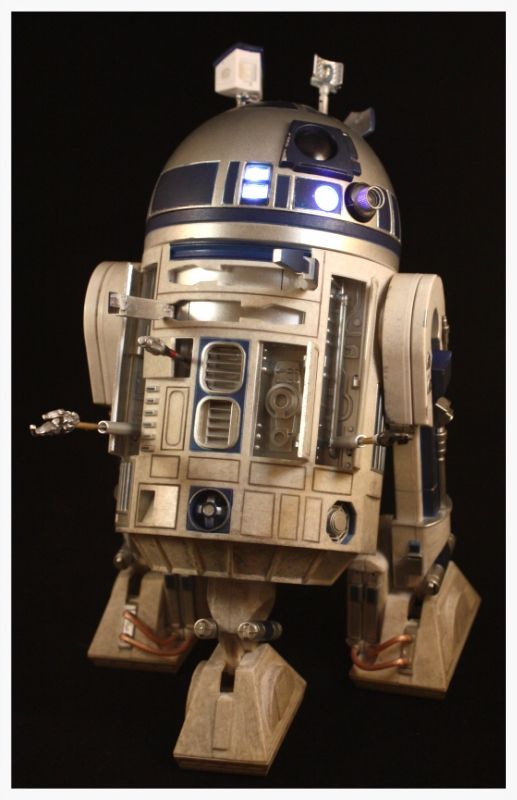 Accessories: ☆☆☆☆☆
Sideshow seems to help balance out the smaller sized figures (like Yoda) with a lot of extra goodies, and R2 is no exception. The little rust-bucket comes with just about everything you need for an Original Trilogy R2-D2. He comes with 3 different tools (5 if you got the exclusive like me) that attach inside the body compartments. In order to make accessing the opening features of R2 easier, Sideshow has also included Luke's lightsaber hilt from ROTJ (more on that in the features section). In addition you get the drink tray from Jabba's palace which fits easily over his "shoulders" as well as 7 glasses and the serving arm. Also included is the very cool table and light-up Leia hologram from Obi Wan's home. The final accessory is a restraining bolt, it's also magnetic and can go on his body in a number of places.
The only nit on the accessories is that the table has a fairly obvious mold line, while not a major problem it would have been nice for that to have been sanded down before it was painted.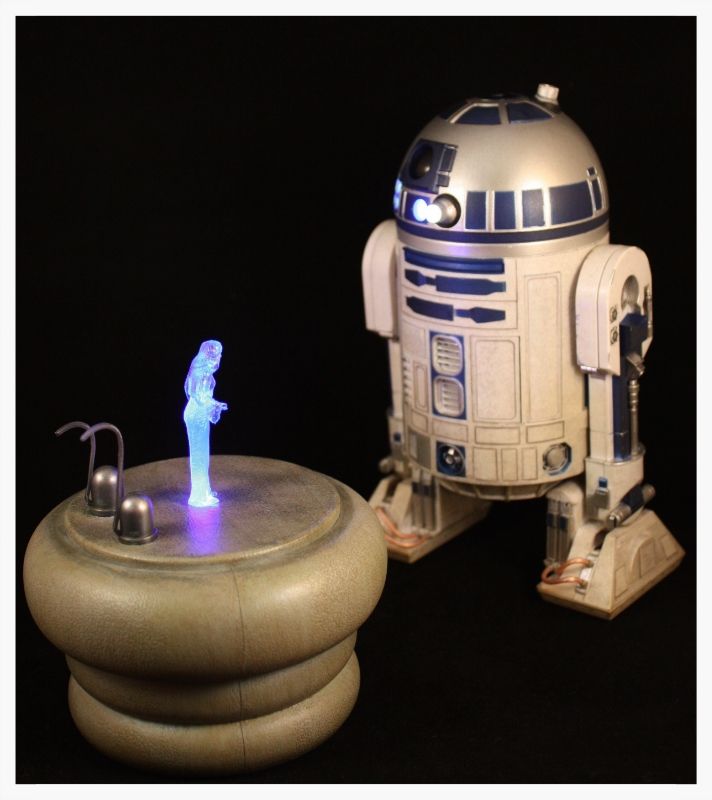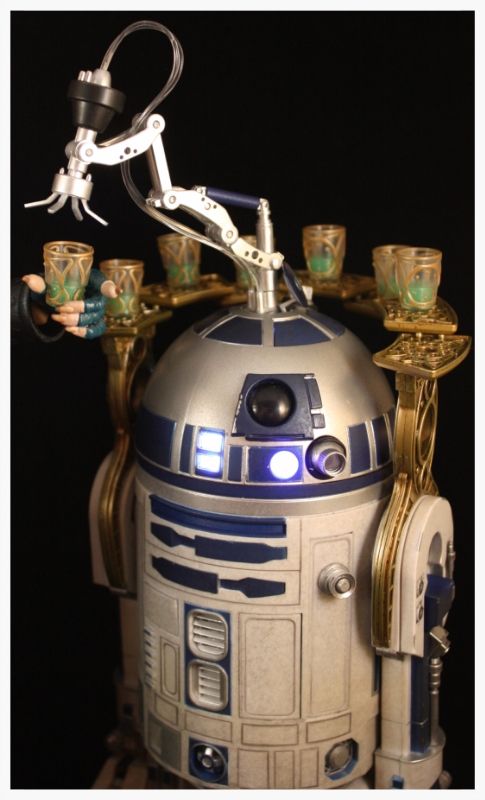 Light-up/Action Feature: ☆☆☆1/2
R2-D2 is one of the few figures that really needs a light-up feature. And Sideshow did their homework on this one and not only gave us a great looking light-up feature, but made it fun to use. Rather than a switch that would turn the lights on and off, this figure has three settings (on, on w/projector and off) that are controlled by touching the dome. To get this to work you do have to remove the dome and turn on an internal switch but once that's on you can turn the lights on and off by touching one of the panels on the dome. And not only does he light up, but there is also a cool blinking pattern to the lights. In addition to the lights on R2, the table with the Leia hologram also lights up, which can make for a great display item.
I am very happy with the light up feature on R2, but if I had my way he'd also have come with a sound feature. But for what we were promised on R2, Sideshow delivered and it alone would get full marks.
What isn't quite as successful and brings the overall score down a bit are the action features of the compartments. On the plus-side all of the compartments feature magnets which when used with the included lightsaber open up easily. Sideshow got pretty creative and not only does the lightsaber fit inside of R2 (ala the sail barge scene in ROTJ) but it can be used to open all of the other compartments with the magnet placed in the pommel. The negatives are how a few of the compartments don't sit completely flush when closed, in particular the "visual imaging scope" (or sensorscope if you're Kenner kid like me) has a bit of a lip I can't seem to get rid of when closed and the life scanner doesn't stay extended.
I think Sideshow really went all out on trying to make this the ultimate R2 in the galaxy, but I think a little more care in how the opening features worked would have helped here.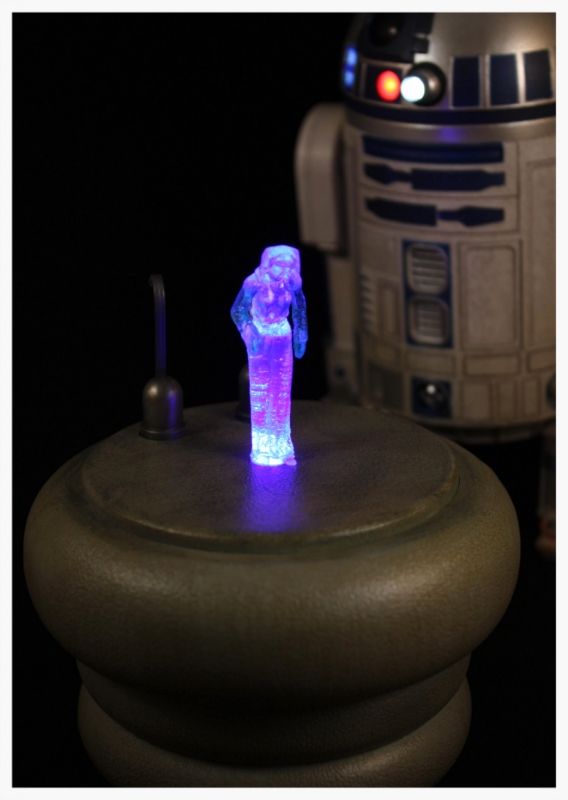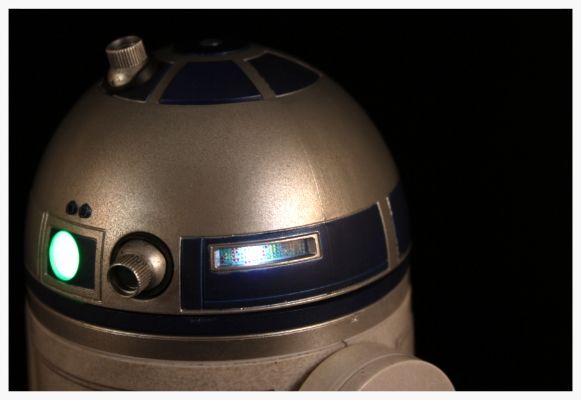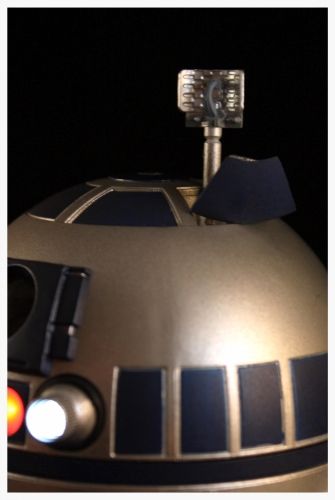 Price: ☆☆☆☆
$150 is a lot of scratch for a figure… or at least it was at one time. With the base price of figures now being over $160, R2 is actually a lot of figure and accessories for the money. While he doesn't have any soft goods; he is a unique body, comes with a ton of accessories and a well-designed light-up feature. And if you consider that Medicom's first R2 (2010) was $189 and the second version (2012) was $219, it helps put into perspective how good of a deal R2 is at $150 in 2015
Overall: ☆☆☆☆1/2
If you collect 1/6 Star Wars figures this is a must-have. No question in my mind this is by far the best 1/6 version of R2 we've gotten. While another company may find a way to improve on it (slightly larger, add sound, better weathering or die-cast) I can't see it being a significant difference nor anywhere near the price of this one.
And even if there is a better one, no harm having two R2's in the collection… this guy can look pretty fly serving drinks next to Jabba's Throne if need be. No to mention, C-3PO is already up for pre-order and if he turns out as nice as R2 I'll be thanking the maker
So in short, buy him and buy him now… don't worry about the motivator on this one, he's the droid you've been looking for.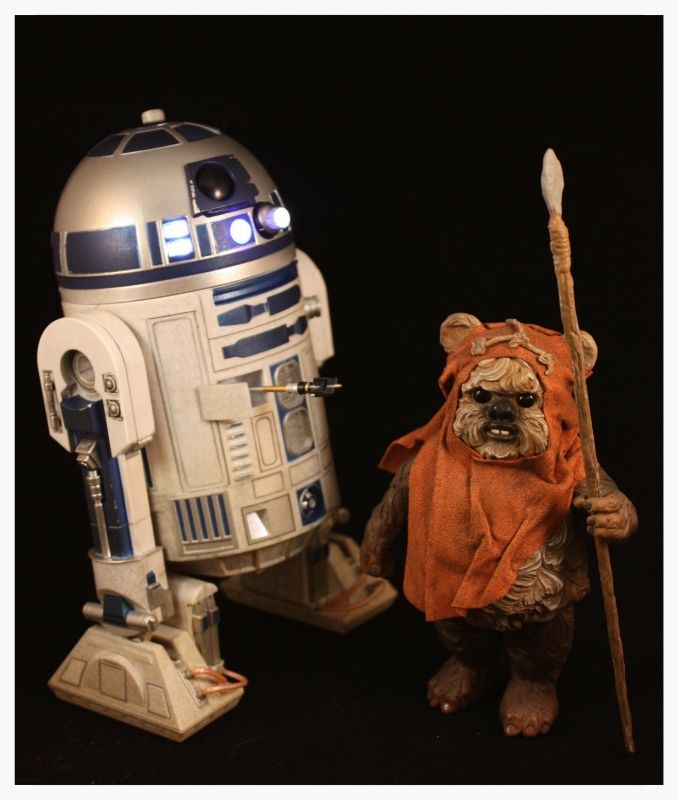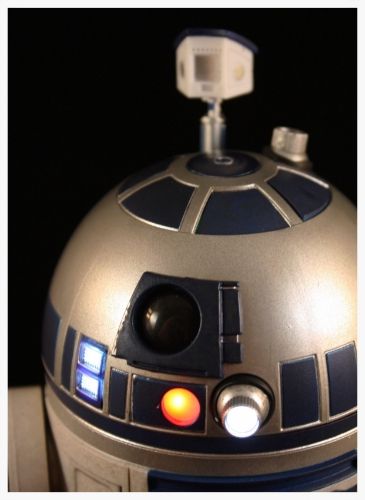 Customizing/General Suggestions:
**As is R2 is very solid and nothing seemed like a glaring issue or an opportunity for improvement. However, if you have any suggestions please post them and I'll add it to the review
1) Swap in the Obi Wan Kenobi exclusive Leia Hologram for a different look... idea and photo credit to qbomb71